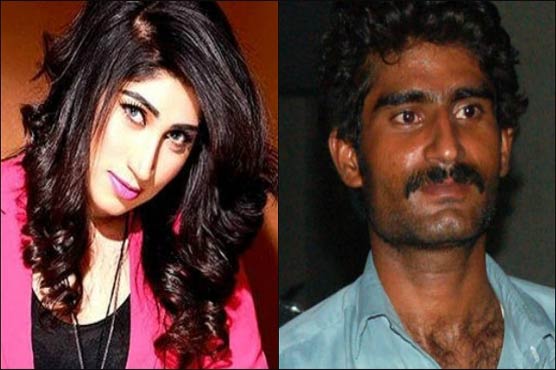 ù
MULTAN (Dunya News) – While being interrogated by law enforcement agencies, Qandeel Baloch's murderer revealed that members of the the tribe and close relatives decided to murder the renowned Pakistani social media celebrity after her controversial
video
with Mufti Abdul Qavi surfaced, reported Dunya News.
Police detained family relatives Haq Nawaz and murderer Waseem's brother-in-law Zafar Hussain upon the
information
provided by the assailant. Haq Nawaz was involved in planning the murder of Qandeel along with Waseem whereas police also reterived a third cell-phone from Qandeel's father.
Waseem stated before the interrogation team that he asked Haq Nawaz to come to Multan from Dera Ghazi Khan the night when the murder was to be committed, further stating that Nawaz took one of Qandeel's phones with him after accompanying Waseem in her murder.
Police officials have retrived the phone from Haq Nawaz whereas a third phone was handed over by Qandeel's father to the police as well; her second phone was recovered from her house.
Police stated that the phone handed over by her father will play a crucial part in the investigation of the case. Waseem's polygraph test took place at the Forensic Science Agency in Lahore, the report of the test shall be prepared within three to four days whereas the results of the culprit's Deoxyribose Nucleic Acid (DNA) test will be received between 10-12 days.
Mufti Abdul Qavi told that he was in Jhang and he was not called by police for interrogation. Qavi also said that he would definitely go if police called him.
Share this